With a service area covering Tennessee, Kentucky, Georgia, Virginia, North Carolina, South Carolina and Alabama, we can provide you prompt, on time delivery across the region.
Need to provide regular, daily deliveries to your customers? We can help with our daily routes covering the greater East and Middle Tennessee area. Have a look below to get an idea of what we can do for you.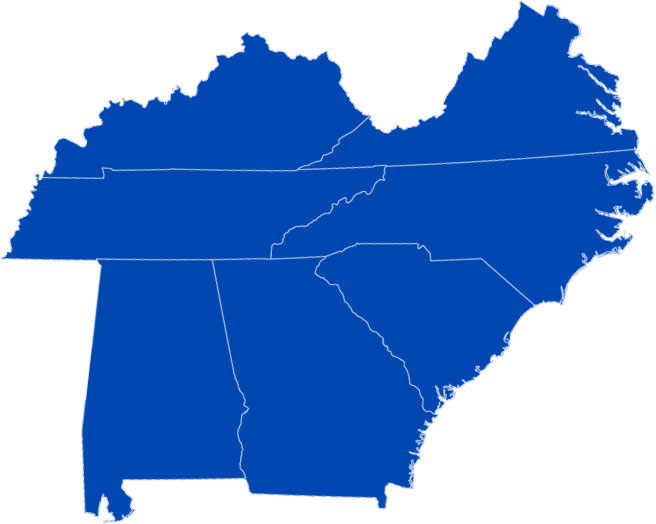 Daily Route Coverage Area
With routes covering the whole of East and Middle Tennessee and areas of connecting states we can get your product where and when it needs to be. Take a look at our map above and scan the list of cities below to get a broad overview of our coverage area. Not sure if your delivery is covered? Call us to see what we can do for you.
Some of the Cities Within Our Service Area
Afton, TN
Antioch, TN
Ashland City
Athens, TN
Baxter, TN
Bell Buckle, TN
Blaine, TN
Bristol, TN
Camden, TN
Centerville, TN
Chattanooga, TN
Clarksville, TN
Cleveland, TN
Clinton, TN
Columbia, TN
Cookeville, TN
Crossville, TN
Cumberland Gap, TN
Dayton, TN
Dickson, TN
Dover, TN
Englewood, TN
Franklin, TN
Gainesboro, TN
Gatlinburg, TN
Gray, TN
Greenbrier, TN
Greeneville, TN
Greenville, TN
Harriman, TN
Hendersonville, TN
Hixson, TN
Huntingdon, TN
Jamestown, TN
Jefferson City, TN
Johnson City, TN
Jonesborough, TN
Kingsport, TN
Knoxville, TN
Kodak, TN
LaVergne, TN
Lebanon, TN
Lenoir City, TN
Lewisburg, TN
Linden, TN
Livingston, TN
Lookout Mountain, TN
Loretto, TN
Loudoun, TN
Madison, TN
Madisonville, TN
Manchester, TN
Maryville, TN
McKenzie, TN
McMinnville, TN
Monterey, TN
Morristown, TN
Mount Carmel, TN
Mount Pleasant, TN
Murfreesboro, TN
Nashville, TN
Newport, TN
Oak Ridge
Old Hickory, TN
Oneida, TN
Paris, TN
Pigeon Forge, TN
Piney Flats, TN
Pulaski, TN
Rogersville, TN
Sevierville, TN
Seymour, TN
Shelbyville, TN
Smithville, TN
Smyrna, TN
Somerset, TN
Sparta, TN
Springfield, TN
Spring Hill, TN
Strawberry Plains, TN
Sweetwater, TN
Surgoinsville, TN
Talbott, TN
Tazewell, TN
Tullahoma, TN
Vonore, TN
Wartburg
Winchester, TN
Woodbury, TN
Afton, KY
Barbourville, KY
Benton, KY
Bonnyman, KY
Bowling Green, KY
Calvert City, KY
Central City, KY
Corbin, KY
Franklin, KY
Glasgow, KY
Hazard, KY
Hopkinsville, KY
London, KY
Manchester, KY
Middlesboro, KY
Murray, KY
Pineville, KY
Roundhill, KY
Russellville, KY
Scottsville, KY
Somerset, KY
Stearns, KY
Symsonia, KY
Whitesburg, KY
Whitley City, KY
Williamsburg, KY
Asheville, NC
Brevard, NC
Calvert City, NC
Franklin, NC
Hendersonville, NC
Leicester, NC
Murphy, NC
Sylva, NC
Waynesville, NC
Blairsville, GA
Calhoun, GA
Clayton, GA
Dalton, GA
Fort Oglethorpe, GA